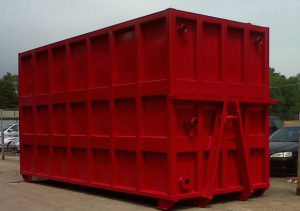 SPH Plant can provide a range of waste water tankers and holding tanks up to a maximum size of 2.5m wide x 3m high x 9m long. So, no matter how big the job is, SPH Plant will have a Holding Tank fit for purpose.
All of our waste tanks are delivered on a hook lift and if required, can be installed on the site.

If the job at hand requires a holding tank that can store and carry chemicals, our tankers can also be steel lined to make them suitable for this.
At SPH Plant, our experienced staff can assist you with your request and help recommend the right tanker for your requirements. 7 days a week and 365 days a year, SPH Plant are the solution for all Shropshire Holding Tank requirements. For more information, please call 01952 501155.