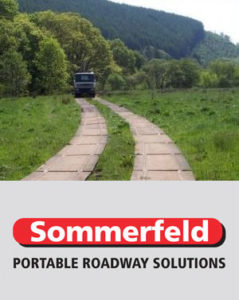 SPH Plant has a specialist division called "Sommerfeld Flexboard" for temporary roads in Shropshire.
For over 50 years Sommerfeld Flexboard has been supplying temporary road access solutions to the agricultural, construction, marquee, industrial, rail, telecoms and utilities sectors.
Sommerfeld's range of portable roadways and excavation matting are low cost, low maintenance – and high performance.
These temporary solutions are durable enough to cope with even the most hostile environments – and don't require on-site security.
To find out more about our temporary roads in Shropshire, please visit our dedicated Sommerfeld Flexboard website below.